I'm not sure how we can ever express my appreciation to the Town of Tonawanda Titans in naming their long course swim meet after our daughter Natalie.
What a beautiful way to keep the memories alive and feel her presence with us. I could almost see her there with her blue speedo backpack laughing in the lobby with her friends post racing. Same place. Same meet. Just a few years ago.
Yet, now the meet bears her name. It's all so clear. No one is staying here on earth. But when you choose to live your life filled with goodness and joy, and give it your all,  you leave a lasting imprint on others.
Episode 36. Big 12 Champion in the 100 Back …Meet Andrew Marsh
Last year I wasn't sure what to expect at the meet, dropping in and out and not staying for a long period of time. This year, our family made a commitment to be there all weekend to really take the time to talk to people, get to know the new younger swimmers, to reconnect with older swimmers, talk to the coaches and really embrace ourselves with all the good surrounding the swim meet. I appreciated taking it all in because too often, we are all filled with distractions, especially on weekends!
One thing that really struck me was the consistency of the coaching staff not only on the Tonawanda Titans, but also the other clubs. That is such a key to success. Scott Vanderzell, Tim Bennett, and the younger coaches Randall Snodgrass, Steve Pochatko and Andi Parish to name a few are true treasures. The sound of Tim Bennett whistling on deck is music to my ears. What an encouraging and amazing coach. How touched I was to see other team's coaches on deck wear "Natalie" shirts and stop to tell us how much they remember her in the pool.
How often to we just take the time to sit down with someone and get to know them?  Doing that with LeeAnn Martin, a current mom on the team we just connected and realized how much we all have in common.
A few stories emerged as I was there. Ones that really struck me. Today, I'm going to share one with you one. It's a story of Andrew Marsh. He's from Jamestown, NY and when his interest grew in swimming and he needed a bigger team, he chose the Tonawanda Titans. Andrew excelled. I am so happy that he remembers Natalie fondly and recalls the impression she made on him. He remembers her coming back from her college swim team and competing for the Titans in the summer. He was impressed and made the decision he wanted to do that too.
She was someone the younger swimmers including himself looked up to. A little hero in a way. A "Hey, I want to be like that" kind of feeling.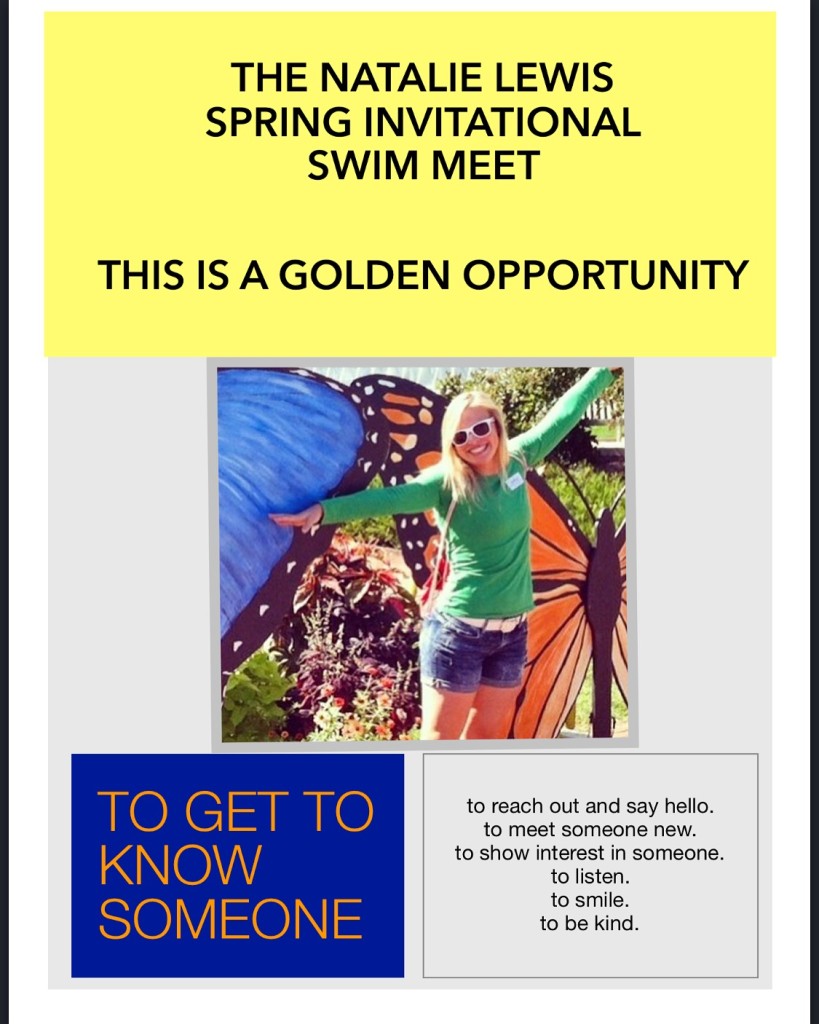 Now it's time to shine the light on Andrew. Andrew is currently swimming for the University of West Virginia. He is big time. He was clearly the signature swimmer at the Natalie Lewis Swim Invitational dominating all events he entered. I enjoyed videotaping his races. How can you win the 50 meter freestyle by 2 seconds? It's not that long of a race. Oh, and by the way, it was his younger brother Matthew following him to West Virginia University who was able to get second. I had a chance to sit down with him at the meet and was stuck by his humility, maturity, and drive to succeed. I was also moved by the amount of younger swimmers on the deck flocking around him and staring intently when he would race. And his younger brother Adam, clearly loving every moment with his big brother. I loved seeing the amazing kindness between them. Andrew clearly understand that to be a hero to his little brother just might be his greatest accomplishment on earth. But then again, Andrew won the 100 backstroke at the Big 12 Championships with a 45.41 which made his teammate and coach go crazy on deck watching. You just don't beat Texas. That is what dreams are made of.
Thank you for reading and listening this week. I certainly enjoyed meeting and watching Andrew Marsh. Remember, you can be a hero. It's your choice. You never know who is watching and learning from you.
Sincerely,
Trish