This past week I had the privilege of speaking before the National Veterinary Associates who held a conference here in Buffalo. An established relationship with a friend that I met during our active years at the Junior League of Buffalo, Bethany Botzenhart who knew our story, asked me to speak about our dogs. She knew the power of healing these dogs gave us from following along on my Instagram account poodlewalker1.  Bethany is a strong reminder that our associations are truly life enhancers.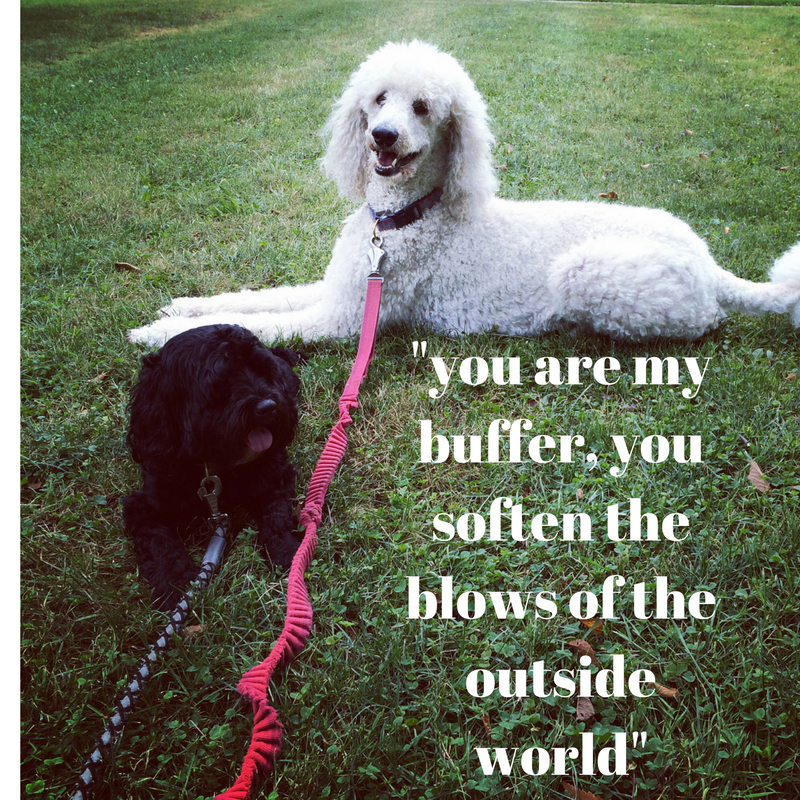 I spoke about this blog. I spoke about how I use to write Christmas letters which were always filled with laughter with stories of everything that has always mattered most..faith, and family.
It helps to look back and see that even going back to my first posts confirmed that our life was deeply rooted in our Catholic faith. Those deep roots saved us.  We needed to dig deep into our faith. We are so thankful our faith was in place. Faith does not prevent the tragedies in life but it is there to catch and save you.
Our dogs were also there. No matter how trivial it may seem…our dogs gave us immesureable comfort.
These crazy dogs Rory and Lucy held us together in a very real way. Yes, a standard poodle and a cockapoo. One a better listener, more attuned to our emotions, more obedient, with her only desire to please. The other is the one we call "Baby", she is the one we give belly rubs and attracts children on our walks and to our home. They are quite a team and proof that size and breed doesn't matter.
The dogs became our buffer, our way of coping of the painful reality of what has happened has really happened. Each of us, my husband, son and daughter needed those dogs more than we care to admit. Each of us has an unique relationship with each dog. When we needed time to grieve alone, a dog was grabbed before entering a room. We needed their comfort. We needed to touch, and feel and we needed to pet them.
There is no question that dogs live a selfless life and dedicate themselves to their pack. They look to serve their master and are constant companions in our home.
Dogs are life coaches without trying. They are certainly not our whole life yet they make a house a home and add wholeness to our lives.
It would be so easy to stay in our house and close the shades but the dogs depended on us for walks. Going outside and walking in all kinds of weather was incredibly therapeutic. The dogs reminded us how to breath in the outside air, how to look around, pay attention to all the little details on walks, the sights and smells, and the simple joy of walking. One foot in front of the other and looking up at the big magnificent sky.
The most important benefit of walking was connecting again with our wonderful neighbors who are not only familiar with the dogs but also shared in watching Natalie grow up and flourish before their eyes. There was no barrier for people to stay away from us because we were out sharing hugs and compassionate conversations. To eliminate the awkward barrier was crucial. Those dogs made sure no one stayed away and our hearts are so filled with gratitude to all the examples of beautiful friendships and neighbors.
The dogs added an enormous feeling of life back into our homes. They helped us feel alive again. When you hear the dog toys squeaking, the paws pattering across the hardwood floor and the loud barking every time the mail carrier, UPS delivery or someone passed our house..you can't help but feel on alert.
Dogs will always listen. I think that is why God created them with such big ears. Dogs never tell you what you are doing wrong, they simply enjoy that you are there. You are present. That is enough. Dogs connect us and without Lucy we would not have visitors like our dear friend Sylvia who we joke doesn't need vaccinations because she has received so many dog kisses slobbered on her face.
I get a kick out of all the vocabulary words they know and how dogs know exactly what we are saying. Dogs even enjoy when we pray the rosary. Sure, they lay at our feet quietly and know that peace is filling our hearts.
Our lives will never return to what they were and our wound is so deep, yet we know Natalie touched so many by her smile and laugh, her kindness, her joy and her discipline and willingness to help others. We all miss her in different ways.
It's crystal clear to us now the more you focus on how temporary this life is the more you focus on what is important. Value life. Value each day. Love your family. Keep it together. Draw your strength together during good times and bad. Marriage is sacred. Be there. Be present. Be loyal like the dog.  Show you care, be kind to each other, don't blame each other, be gentle. Love. And above all else..Hold onto your faith. Celebrate the life rather than the death because the fullness of life is with God Our Father and Our Blessed Lady forever.
Oh, and you know that old expression, "Live each day like it's your last?" I think we learned that from dogs.
Thank you for reading.
Sincerely,
Trish